Overview
The Infrastructure Credit Guarantee Fund established in August 1994 seeks to attract private investment in the construction and operation of infrastructure. KODIT has managed this fund since January 1999 under consignment from the Ministry of Economy and Finance.
The objective of infrastructure credit guarantee services is to help private investment corporations obtain funds for facility construction. Infrastructure credit guarantee services have played a significant role in securing the financing of private investment corporations that lack the collateral for loans but have acceptable credit standings and strong prospects.
Infrastructure credit guarantee support obligations borne when private investment is procured from financial corporations. Companies eligible for these services are corporate entities (excluding foreign) that are designated executors of infrastructure projects by relevant authorities and whose project plans have received approval. The creditor is a financial institution that makes a credit guarantee agreement with credit guarantee institution.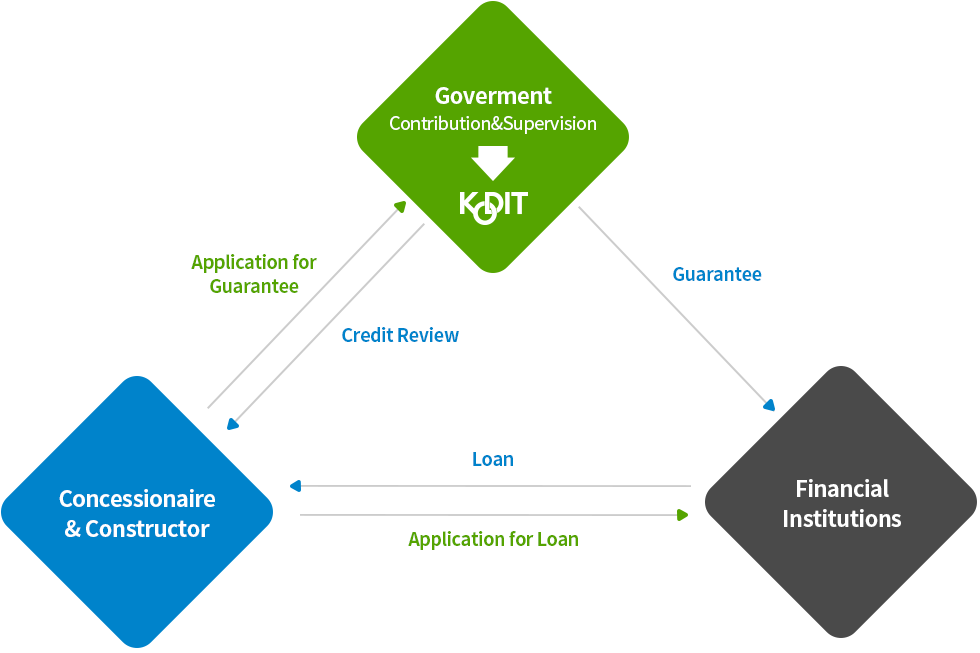 Goverment Contribution & Supervision : KODIT → credit Review → Concessionaire & Constructor
Goverment Contribution & Supervision : KODIT → Guarantee → Financial Institutions → Loan → Concessionaire & Constructor
Concessionaire & Constructor → Application for Guarantee → Goverment Contribution & Supervision : KODIT
Concessionaire & Constructor → Application for Loan → Financial Institutions
Operation
Eligibility for guarantees
Under the Act on Public-Private Partnerships In Infrastructure, corporate entities that are designated private finance initiative (PFI) builders (excluding foreign companies) are eligible for infrastructure credit guarantee services.
Guarantees cover a range of infrastructure, including facilities which form a basis for economic activity, facilities such as schools, libraries and mixed-used cultural facilities which are necessary for furnishing of social services, government offices, veterans' welfare facilities, military facilities, and public facilities required for the carrying out of the affairs of the state or local governments.
Operational procedure
KODIT's Infrastructure Guarantee Department handles infrastructure credit guarantees, general operation, and management. When a guarantee application is received, the applicant and object obligation are identified, followed by examination of financing conditions. A credit review and guarantee evaluation are conducted before the issuance of a letter of credit guarantee.
A maximum guarantee limit of KRW 500 billion may be placed for a single project. A separate limit of KRW 300 billion is set on PFI loan guarantees. A guarantee fee ranging from 0.1% ~ 1.5% per year is collected based on credit ratings.