Overview
The main purpose of the credit guarantee services is to enable promising Small and Medium-sized Enterprises (SMEs) without enough collateral to obtain funds and make smooth headway in the financial or business transaction. In an attempt to meet SMEs' demand for financing service, Korea Credit Guarantee Fund provides enterprises with credit guarantee services for the repayment of liabilities assumed by business enterprises in transactions with other companies or institutions.
By doing so, the credit guarantee services facilitate the financing of SMEs through the credit guarantees and stimulate the sound credit transaction through the efficient management of credit information.
Credit guarantee services involve a series of interactions among three parties: the guarantor (KODIT), the debtor (SMEs), and the creditor (Banks, Enterprises, etc.). If the debtor defaults, KODIT pays the guarantee obligation to financial institutions in place of the debtor.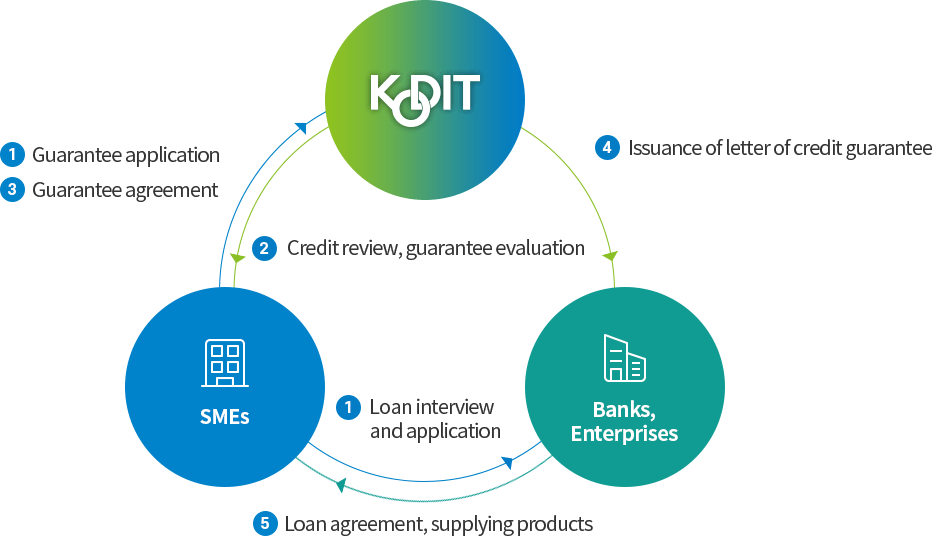 SMEs → 1. Loan interview and application → Banks, Enterprises
SMEs → 1. Guarantee application → KODIT
KODIT → 2. Credit review, guarantee evaluation → SMEs
SMEs → 3. Guarantee agreement → KODIT
KODIT → 4. Issuance of letter of credit guarantee → Banks, Enterprises
Banks, Enterprises → 5. Loan agreement, supplying products → SMEs
Procedure
Guarantee application & interview

Guarantee Evaluation&Approval

Letter of Credit Guarantee Issued
Guarantee application & interview
File guarantee application in person at KODIT branch or online
Conduct preliminary checks of application and credit status
Credit Review
Gather materials and data required for onsite credit visits and guarantee evaluations
Screen a company's credit status through preliminary study and due diligence
Guarantee Evaluation & Approval
Inspect company potential and redeemability of debt based on credit review to determine whether to extend guarantee and decide guarantee amount
Letter of Credit Guarantee Issued
Sign credit guarantee agreement
Collect guarantee fee based on credit rating and issue letter of credit guarantee
Operation
Guarantee Eligibility
Regardless of business category, individuals and corporations conducting for-profit business are eligible for credit guarantees. However, companies in categories with insufficient grounds for guarantees, such as gambling, adult entertainment, and real estate, as well as companies evaluated as unable to maintain operations, are ineligible. The granting of guarantees to company that caused losses to KODIT and debtors is thus prohibited.
Guarantee Limits
To prevent an excessive guarantee amount from going to a single company and thereby maintain the soundness of guarantee funds, KODIT places guarantee limits. The general guarantee limit (KODIT + Korea Technology Finance Corporation) is KRW 3 billion and the maximum guarantee limit depending on the company and the nature of funds is KRW 7 billion. The guarantee limit for infrastructure funds is KRW 10 billion.
Partial Guarantee System
Partial guarantee system enables KODIT and a lending financial institution to share liability for losses on guaranteed loans at a preset ratio and was adopted to minimize moral hazard on the part of financial institutions.
In principle, differentiated coverage ratios, generally between 70% and 85%, apply depending on the credit rating of the guarantee-receiving companies and the term for guarantee services. The ratio is reduced for companies using guarantee services for extended periods. Higher coverage ratios, 90% to 100%, are given in the case of special purposed guarantees aligned to government initiatives for such as startups and exporting companies.
Guarantee Fee
The Guarantee fee of KODIT varies according to the credit rating of the applying company within the range between 0.5% and 3.0% annual percentage rate of the outstanding guarantees. Large enterprises are charged 0.5% higher fee than SMEs with a same rating. In the meantime, a fixed rate applies to certain types of guarantees.